Advanced Stochastic Scalper Free is a professional indicator based on the popular Stochastic Oscillator.
This product is an oscillator with dynamic overbought and oversold levels, while in the standard Stochastic Oscillator these levels are static and do not change. This allows Advanced Stochastic Scalper Free to adapt to an ever-changing market.
When there is a buy or sell signal, an arrow is drawn on the graph and an alert is triggered that allows you to open a position at the right time and avoid sitting at the computer all the time.
Advantages of the indicator
The indicator is suitable for scalping and intraday trading.
It is possible to evaluate the effectiveness of the indicator on the history.
The indicator is not redrawn (recalculated), signals are generated strictly at the "Close the bar".
It can be used as a standalone tool or together with other indicators.
Notification system on e-mail and mobile device about new indicator signals.
Possibility to customize the color of the indicator.
Recommendations for using Advanced Stochastic Scalper Free
Buy signal: indicator line crossing the oversold level. If there are open sell positions, they must be closed.
Sell ​​Signal: Line of the indicator that crosses the overbought level. If there are open buy positions, they must be closed.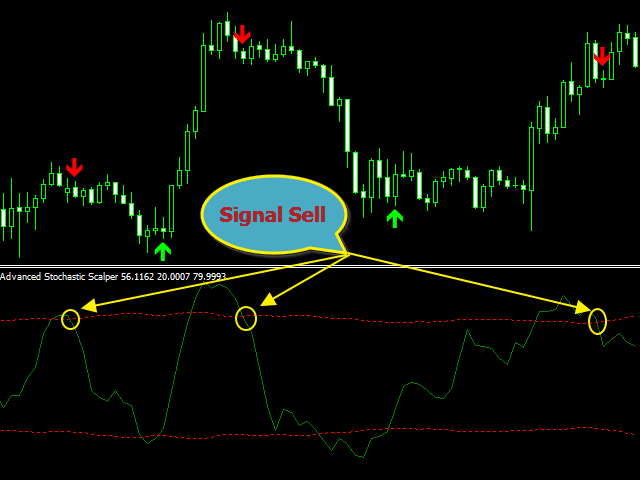 There may be situations with several consecutive signals in the same direction. In this case, open the additional position in the same direction without closing the previous one.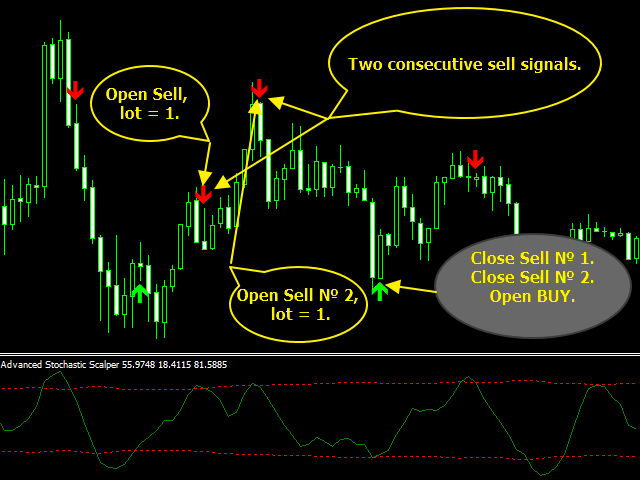 Several positions should only be closed when the opposite signal appears.
Indicator parameters
K.

– Stochastic setting. Period of calculation of the stochastic line% K.
D

– Stochastic setting. Averaging period to calculate the% D line.
Slowing down

– Stochastic setting. Slowing value.
method

– a method for calculating a moving average. The options are: 1-simple, 2-exponential, 3-smooth, 4-line weighted.
Line mode

– line to plot the indicator: MAIN or SIGNAL.
Alarm

– enable / disable Alert. If true – on, false – off.
E-mail

enable / disable sending e-mails. If true – on, false – off.
Press

enable / disable sending messages to the mobile terminal. If true – on, false – off.
The size of the arrow

– the size of the arrows in the diagram (1 to 7).
buy

– the color of the buy arrows.
Sell

– the color of the sale arrows.
If you have any questions or suggestions, you can contact me via Profile: https://www.mql5.com/en/users/genino